Tech Highlight CONFIDENTIAL I. Development Concept
Main Goals
 Improve the marketability by upgrading interior parts and adding sporty styling.
 Develop specialized cars which consider market characteristics of India
(climate/road environment/consumer characteristics).
 Increase the product competitiveness by improving the driving performance marketability.
Package
/Styling
 Highlight the sporty image with dynamic design.
 Emphasize the spacious feel add the premium feel with the colored wide garnish and metal painting.
 Extend the interior space by increasing the length and width, and improve the loading space and its usability
by providing the best-in-class luggage capacity.
Specialized
Specifications
Commercial
Quality
 Emphasize the family car concept for the tropical climate by providing rear air vent, glove box cooling,
and five bottle storage spaces.
 Provide a spare tire with the upward air inlet that considers the frequent punctures caused by poor road pavement.
 Provide premium consumer-oriented options (e.g. roof rack, push button start & smart key, etc.).
 Equip a diesel engine (U-1.1) for the maintenance cost competitiveness; better fuel economy;
more accuracy between certified and actual fuel efficiency.
 Improve the power performance at low and medium speeds to support city driving (20 ~ 50 kph)
 Increase the body rigidity with the extended application of the high tensile steel (application of the ultra-high
tensile steel: 9 → 10 %).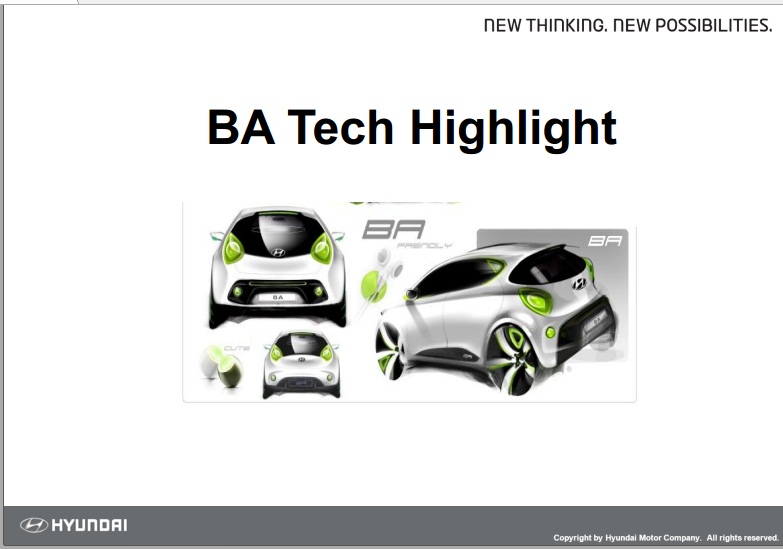 Only registered and activated users can see links!
0. BA Tech Highlight_Final.pdf